Producten > Farmaceutische producten > Vial Washers
RW-1150 Vial Washer
The RW-1150 is a high speed automatic vial washer for pharmaceutical and biotech applications with an output of up to 400 vials/min (2ml). Vial range 2-500ml. (change parts requires). Standard features include: Recycling of WFI, intermittent spraying and automatic lid lift mechanism.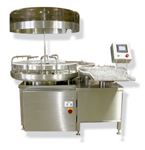 Features and Benefits:
The PennTech rotary vial washer model RW-1150 will be controlled by an Allen Bradley capable of providing full control and monitoring of the machine.
Electrical and Operator-Machine Interface
The machine includes a user-friendly Allen-Bradley CompactLogix PLC and PanelView 1000+ operator interface. A menu guides the operator through the operations of the machine. Fault conditions are displayed, should they occur, informing the operator of the status of the machine.
A four level dual password protected menu guides the operator through the operations of the machine.
Washing Program
There are thirteen effective water/air stations. The combined exposure time is approximately 20 seconds based on 30 indexes per minute. The total cleaning time is adjusted automatically per vial size within the PLC control.
Recycled WFI System
The recycled water system includes a 30 liter recirculation tank constructed of AISI-316L stainless steel. The tank is automatically filled as part of the machine's flush cycle. The tank includes a high and low level control mechanisms automatically adding water upon low-level detection. An internal immersion heating element helps maintain water temperature
Self-draining Piping System
All water pipes and manifolds are pitched 10mm per meter to prevent water stagnation after shutdown. No dead-legs are present in the entire piping system. The entire piping system is designed to run from high to low, hence preventing water stagnation. At the completion of the washing batch, the valves are opened under PLC control to drain the entire system.
Infeed
Vials are placed onto the loading platform and pushed onto the rotating table. The rotational speed of the table is automatically adjusted to accommodate the vial format. In case of a fallen vial, downed vial blocks prohibit it from entering the infeed area. Unstable vials (e.g. 3ml vials) when fallen are automatically removed from the infeed area. Vials are fed to the vial carriers by way of an infeed drive belt.
Infeed Vial Flip Table
- Ergonomically designed to avoid repetitive wrist motion
- Quick plastic removal (2-3 times faster)
- Less potential of fallen vials
1. Place brick upside down onto flip tray
platform. Remove plastic from bottom.
2. position plate over top of vials
3. Lift and rotate.
4. Vials are now in the up-right position on
infeed table.
5. Flip the tray back to its original position. Vials remain in upright position on infeed table.
6. Remove plastic and slide vials onto
rotary table.