Producten > Farmaceutische producten > GMP Washers
HAMO PG-1300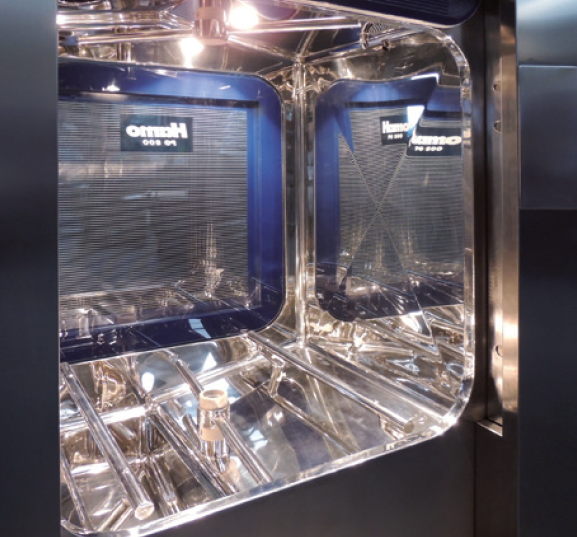 Hamo Cleaning equipment for industrial and life sciences fields are special cleaning equipment designed to process critical components such as, fermentation containers, big bottles, glassware, components of filling and packing-machines, mixers, cones, palettes, boxes, tabletting-tools, and other parts from the pharmaceutical, diagnostic, cosmetic and food industries.
Chamber
The polished chamber (with only three openings) and tubing are designed to fully drain. The chamber ceiling and the chamber are designed with slopes to achieve a quick and full emptying. On request the chamber is equipped with internal lighting, to monitor the process during cleaning.
Technical Execution / Tubing / Components
The machine are designed, built and documented according the latest requirements of the pharmaceutical industry, such as EHEDG, FDA, cGMP and GAMP. As for example:
Chamber and welding surface quality RA ≤ 0,8 mm;
All radius minimal 30 mm electropolished;
All piping sanitary/aseptic execution (Tri-Clamps);
According ISO 11864-3;
All membrane valves without dead legs;
Membranes made out PTFE/EPMD.
Load- and Unloading
By means of an external transport trolley the machines are loaded and unloaded. Automated systems with feed- in and feed-out roller conveyors are also available.
Dosing Pumps
Up to four detergents or additives are dosed (monitored by a flow-meter) into the machine; the dosing volume set values are part of the wash-cycle setting; the pumps are integrated in the machine.
Utilities
All media-supplies (except drain) are from above:
The electrical and pneumatic supply
Up to three separate water supplies
Up to 4 additives/detergents
Clean-air supply (eg for blow-out of process-piping)
Control
The machine is controlled via a modern Control-system (Siemens) which stands for reliability and flexibility.The visualization (HMI) runs on a touch screen. The cleaning cycles are individually configured to be adapted to the soiling and the specific requirements of the wash-load. The integrated user management on the software allows easy configuration of the access-levels of each usergroup. Specific user-group have different access-rights; therefore configuration or changes on cleaning-processes can only be made by authorized personal.
Technical Data
Hamo

PG-1300

External Dimension mm (inches)

Width

Height

Depth

2300 (90,6)

2950 (116,2)

1700 (66,9)

Usable Dimension mm

W x D x H (inches)

1300 x 1300 x 1000

(51,2 x 51,2 x 39,4)

Regulations

CE

EHEDG, FDA, EMA, cGMP as well GAMP

FDA 21 CFR part 110: Food

FDA 21 CFR part 210/211: Pharma

FDA 21 CFR part 177: non ss-parts

FDA 21 CFR part 11: Electronic records

Certificates

Material certificate 2.1, 2.2, 3.1

Material

Stainless steel in contact with wash media

AISI 316L / 1.4401 / 1.4404 / 1.4435 electro polished

Electric

3x 400V, 50 Hz

Water

Four different water (eg Tap water, WFI, Demi, Osmose etc)

Steam

6–8 bar, oil free

Steam

Saturated steam 2–6 bar (optional)

Drain

50 l/min gravity

Download PDF data-sheet