Producten > Farmaceutische producten > Stoomgeneratoren
Pure Steam Generators - PSG-DTS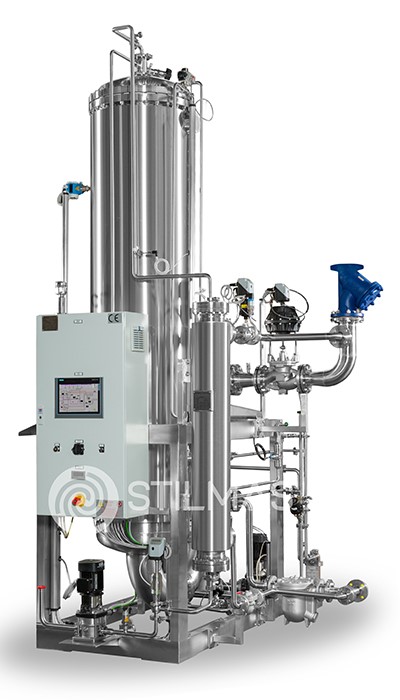 Stilmas PSG – DTS Pure Steam Generators are designed and constructed in accordance to the latest International Pharmacopeias and the cGMP FDA. Standard models range from 50 to 6.000 kgs/h output.
Stilmas PSG DTS main features are:
Immediate start up: thanks to the design as per "accumulating boiler" technology, pure steam is immediately available. The unit is able to pass from stand-by to full capacity in few seconds.
High Flexibility: the production capacity can be varied automatically from 0 to 100%, according to the demand.
Unique purification system: gravitational purification principle for a better guarantee of steam purity.
Feeding by industrial steam or electrical energy.
High Quality Steam: the quality of the produced steam is constant in terms of pyrogenic contents, superheat value and dryness fraction, independently from pressure and production flow rate.
Simple and clean mechanical construction: baffle – free decontamination chamber – no welding, granting the best inspectability, minimized corrosion risk, for the longest expected life of equipment.
Extremely limited maintenance: no moving parts, expansion joints or mechanical seals. No extra space in height is needed.
Compact construction and low weight: little extra head room needed for dismounting and inspection.
WFI production
In case limited amount of WFI production is required, it is possible to provide the Pure Steam Generator with a condensing unit (PSC) constituted by a Double Tube Sheet heat exchanger, complete with automatic regulation system.
The PSC units allow a partial or total Pure Steam flow condensation into WFI (Water for injection).
Non-Condensable-Gases (NCG) Reduction
Stilmas has developed two alternative solutions, in case the compliance with international rules (EN2853, HTM2010) is required for the NCG.
The first one foresees the installation of an external degassing tank, in which preheated feed water is sprayed for NCG removal.
The second solution is based on a Stilmas' patented system – Gasbuster®. In this case, pre-heated feed water is fed directly to the PSG-DTS evaporator, where a special device is installed granting the contacting between the preheated water and a small stream of pure steam: the stream of pure steam degasses the water by stripping out the NCG. With both solutions, Stilmas PSG-DTS is able to grant a much lower NCG content than the one required by international rules.