Producten > Farmaceutische producten > Sterilisatoren
Delama DLST/L - Dry heat ovens for sterilization and depyrogenation class 5 ISO 14644-1-2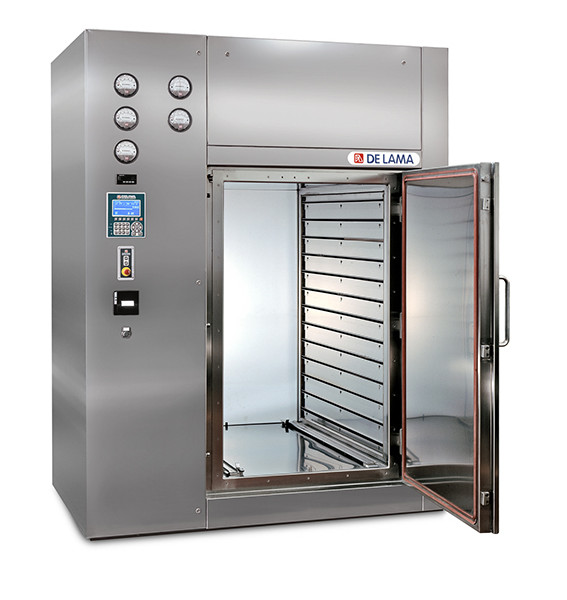 De Lama's oven sterilizers for depyrogenation constitute an important product line for the company.
Our oven sterilizers are used for the sterilization of various solids such as glassware, parts of machines for filling containers and stainless steel parts and are ideal for any production
in which the variability of products, batches and formats does not allow the use of continuous sterilizers such as tunnels.
De Lama's ovens sterilizers of De Lama DLST/L are cGMP designed to satisfy the widest demands of the pharmaceutical industry and to execute the following treatments:
Sterilization: reduction of micro organisms and their by-product up to 12 log (temperature range: 160-180°C)
Depyrogenation: destruction of pyrogens and end endotoxins inside the materials (temperature range: 220-250°C)
The ovens sterilizers are ideal for treatment of solid heat-proof materials (empty glassware and metal materials), materials sensitive to humidity, thermostatic basic pharmaceutical products and chemical compounds, non-aqueous liquid materials such as oils and glycerine.
The high flexibility in the design, the layout configuration, the chamber sizing together with the relevant load handling systems, corresponds to any specific user's requirement. Components are reliable, available all over the world for easy replacement and they guarantee the equipment longest lifetime.
Made both in standard and custom models.
Operating Temperature ranges Between 250°C (standard design) and 300°C according to Customer's request.
Sizes available from 500 lts. to 5,000 lts.
---
In compliance with :
cGMP, U.S. Federal Standard No.209/E, EN 1822, ISO 14644/1/2, EUROVENT, FDA, GAMP, "Parenteral Drug Association" Technical Reports, EMC 89/336/EC, 93/68/EC, 73/23/EC.
---

Download PDF data-sheet